Can Cat and Bird Be Friends?
By Coll Muir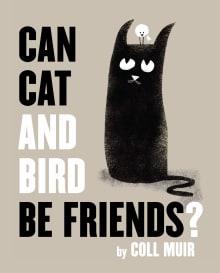 Why this book?
This is an adorable book about a predator-prey pair. Tradition says felines devour birds, so when Cat says he must eat Bird, the feathered fowl tempts Cat's taste in other ways … by showing him "the highest tree for a cat to get stuck in," for example. When Cat points out desirable activities for Bird, the two decide to become friends, until they realize they share nothing in common.
I love the humorous banter between the two and the clever use of different text colors to distinguish between the two speakers. I think it's brilliantly symbolic that when the characters concentrate on differences, the illustrations are in black and white, but once they accidentally discover a shared interest, the pages are splashed with joyful colors.
---
When you buy a book we may earn a small commission.