Waiting for the Biblioburro
By Monica Brown, John Parra (illustrator),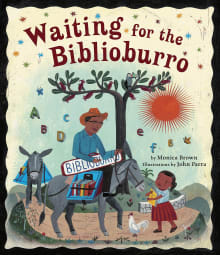 Why this book?
As a book-loving child who grew up poor in rural Utah and who eagerly awaited the bi-monthly visit of the bookmobile to our little farming community, Waiting for the Biblioburro sings to me. Set in the mountains of Colombia and inspired by the mission of real-life teacher and librarian Luis Soriano, Waiting for the Biblioburro tells the story of little Ana who looks forward with great anticipation to the arrival of Luis and his two burros, Alfa and Beto, who carry books to her little mountain village. The colorful folk-artsy illustrations by John Parra perfectly bring to life Brown's story.

According to the author's note: "This book is a celebration of Luis and all the teachers and librarians who bring books to children everywhere—across deserts, fields, mountains, and water." 
---