Savage Her Reply
By Deirdre Sullivan,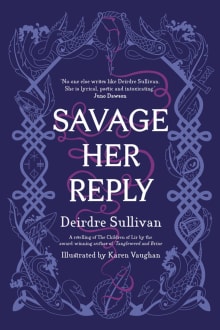 Why this book?
The Children of Lir is one of Ireland's best-known myths. Over the years it has been more than a little sanitized, and as a consequence almost entirely relegated to a children's beloved fairytale. With her rich, poetic prose and unflinching honesty, Deirdre Sullivan brings the story right back into the adult sphere. Her characters emerge, flawed and seething, from the magical fog of myth to hurt and help each other, and to drag the enthralled reader with them through aeons of vengeance, loyalty, and, eventually, peace.
I can't stress how beautiful this novel is. An epic poem almost, it satisfies my hunger for beautiful prose, and for thematic depth and emotional resonance. If you love gorgeous writing as much as I do, you will love this one.
---