Nine Princes in Amber: The Chronicles of Amber
By Roger Zelazny,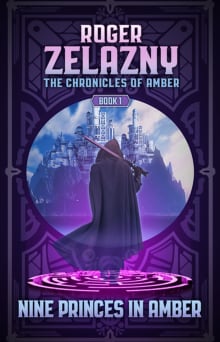 Why this book?
Amber is the first shadow of a pattern drawn in the blood of its creator. A magical place of colourful and princely characters, full of plots, and intrigue. Endless shadow worlds of Amber, ripple out through infinity, stamping the multifaceted order of existence into all-encompassing oblivion. The courts of chaos (primal  embryonic birth-place of the creator) span the void. Unstable, violent, full of chimeric royalty, intent on destroying the pattern, and re-establishing the dominance of existence. Earth shadow culture and technology, are imortant to the princely magician Corwin (pretender to Amber's throne) in his war aginst chaos...
Despite its complexity, Zelazny manages to lace his dreamscape with copious quantities of wise-cracking humour, and somehow, creates a mesmerising world that expands the senses yet, is easy bedtime reading.
---