Damson Skies and Dragonflies: A Journey through the Seasons in the French Countryside
By Lindy Viandier,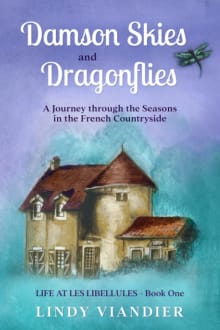 Why this book?
A touch of French magic.
In this memoir, the reader is invited into the author's enchanting world. She and her husband view a gracious old cottage. It's tired, though possesses that special je ne sais quoi. Inexplicably drawn to its soul, they embark on a project to restore life and love into its walls and garden.
During this captivating journey, Lindy learns about her surroundings, the colourful characters who become their friends, the creatures that share their home, but mostly she learns about nature and the joys of living in harmony with the seasons. 
The author's style is delightful. Her new experiences, feelings, and encounters are expressed with a gentle, poetic intimacy. She also delights with her culinary skills and shares heavenly recipes. For me, this was an intoxicating read.
---