Zero Limits: The Secret Hawaiian System for Wealth, Health, Peace, and More
By Joe Vitale, Ihaleakala Hew Len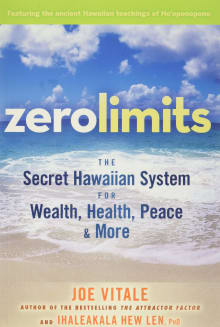 Why this book?
This book has opened many doors for me. It talks about ho'oponopono, an ancient Hawaian prayer/mantra. The story is about the author meeting this old doctor who healed an entire ward of a mental hospital by using this practice. He teaches the author about ho'oponopono and later this book has had the power to spread this wonderful tool around the world to millions of people.
The author's writing is so fluid and fascinating that is like reading a romance. Ho'oponopono is based on gratitude, forgiveness, and love. Since then I use ho'oponopono every day to find peace and healing.
---
When you buy a book we may earn a small commission.