Still This Love Goes on
By Buffy Sainte-Marie, Julie Flett (illustrator),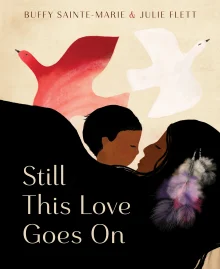 Why this book?
Indigenous singer-songwriter Buffy Sainte-Marie is a music legend in Canada. When illustrator Julie Flett decided to turn one of Sainte-Marie's iconic songs, Still This Love Goes On, in a picture album, it was like the song was brought to life in a whole new way. Readers (or the small children the book can be read to) are able to travel through Buffy's poignant lyrics and Julie Flett's moving, evocative illustrations and truly feel what the song is about. Plus, you can listen to the song while you look at the book and hear Buffy's haunting, heart-breaking voice. Seeing music while hearing it? Sounds like a perfect introduction to me. 
---