Never a Dull Moment: 1971 the Year That Rock Exploded
By David Hepworth,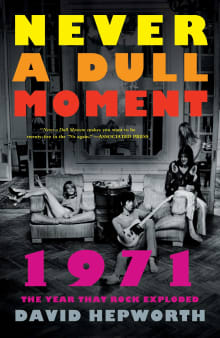 Why this book?
We've just closed 2021, 50 years on from 1971, many are now claiming was the crucial year for modern music. And they just might be right, particularly renowned British journalist David Hepworth, who published his book on the year back in 2017, actually under two slightly differing titles (and covers) — 1971 Never a Dull Moment was subtitled both as Rock's Golden Year and The Year Rock Exploded. An excellent book and an intriguing read, whichever version you pick up.
The book was recently re-worked and expanded into Apple TV+ documentary series, which brought yet another title change, reflecting a wider musical spectrum — 1971 — The year that music changed everything. The series has some brilliant rarely seen or forgotten footage that is a must-see. Still, the key question here is — did 1971 have such a musical significance?
---