Real Happiness: A 28-Day Program to Realize the Power of Meditation
By Sharon Salzberg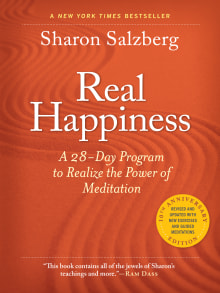 Why this book?
The first book I ever read by Sharon Salzberg was her memoir, Faith. And then, I had the opportunity to study with her at Tibet House in New York City for several years. One of the things that I love so much about Sharon as a teacher is how simple, practical, and approachable she makes meditation. There's nothing complicated or intimidating in her instruction—whether you're a beginner or an advanced practitioner, you always feel like you're practicing with a good friend who is super smart, exceptionally generous, and consistently humble. All of those qualities are immediately accessible and apparent in her book Real Happiness.
She has created a 28-day program that demystifies meditation so you can easily integrate it into your daily activities. And the book also includes guided meditations led by Sharon herself to eliminate any possible resistance to sitting still and breathing. You literally just have to push play, and she will take you on a magical and completely safe exploration of your inner world.
---
When you buy a book we may earn a small commission.