The Mountains Sing
By Mai Phan Que Nguyen,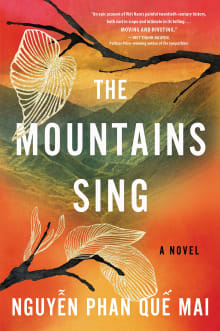 Why this book?
Nguyễn Phan Quế Mai has created a beautifully told tale of the Tran family's journey through the twentieth century. It is a story of triumph and tragedy, sorrow and joy, and the monumental struggle to overcome the most brutal vicissitudes of life. Although the struggles are different, the Tran family's trials are reminiscent of the Joad family in John Steinbeck's The Grapes of Wrath and the Wang family in Pearl Buck's The Good Earth.

It is a story about how families come together during times of great tribulations and the lengths they will go to survive and to remain together. The tale is about the bonds of unconditional love and support that define a family more than its bloodlines. When young Huong (please forgive me if I Anglicize the names) and Grandmother Diệu Lan must flee to the village of Hoa Binh, Huong wants to know how they will eat on the journey. Grandmother reassures her not to worry, "Farmers there will feed us what they have. In times of crisis, people are kind." This reassurance is similar to Ma Joad in Grapes, "if you're in trouble or hurt or need—go to poor people. They're the only ones that'll help—the only ones."

The Mountain Sings is a story about the strength and wisdom of the women of Vietnam. Just as Ma Joad held the Joad clan together and O-lan held the Wang family together, it is so with Diệu Lan holding the Tran family together. Dieu Lan holds it together during the worst of times and nourishes its prosperity during the times of blessing. The story is written in a poetic, personal, and passionate form. I could sit and listen to the Vietnamese language all day, as it is both melodic and soulful. Quế Mai finds words and combinations of words that sing to each other on the page in both Vietnamese and English and resonate in the hearts of humanity.

---