Simple Art of Vietnamese Cooking
By Binh Duong, Marcia Kiesel,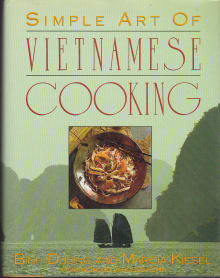 Recommended by Didi Emmons
From Didi's list on Southeast Asian cookbooks from a Chef who uses them daily.
This book is written by Binh Duong, the owner and chef of a Vietnamese restaurant in Hartford, CT, and Marcia Kiesel, who was a food and wine magazine journalist and tester. I once opened and ran a popular pho restaurant in Cambridge and I relied heavily, almost fully, on this cookbook. Its recipes are almost never off-tune (and I highly recommend the dipping sauces and condiments chapter). Its recipes are easy to follow and every detail is clearly spelled out. Some ingredients may be foreign (tree ears, tiger lily buds) but nothing a decent Asian market would not have.

---