When We Were Alone
By David A. Robertson, Julie Flett (illustrator),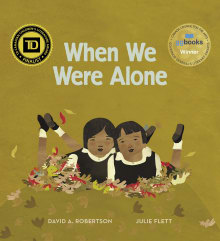 Why this book?
This book is a conversation between a grandchild and their grandma who is a residential school survivor. With childlike simplicity, grandma explains why her colourful clothes, long hair, and treasured time with her brother are a reaction to being taken "from community" and being sent "far far away". Grandma talks about students forced to wear uniforms, cut their hair, forbidden from speaking Cree, and separation from her brother.
This is a book I would probably have steered clear of "not wanting to frighten my children" when I was parenting, David Roberson does a masterful job of gently laying out facts without explanation or accusation. The book opens the door to further questions and conversations that have to be had but are very difficult to start. This is a great start.
---