Don't Shoot the Dog: The Art of Teaching and Training
By Karen Pryor,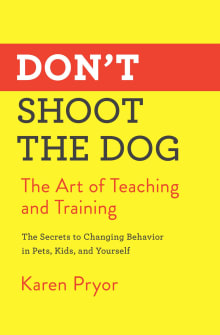 Why this book?
Whether we are a human, dog, or fish: we all learn the same way. Karen Pryor, a behavioral scientist, and a brilliant animal trainer, teaches us how to create or change behavior in this "easy-to-read" and entertaining format. If you have a child who needs to learn a new skill or a dog who needs manners, this is the book for you! You must know how learning works before you can teach. We all learn the same way whether we are a human, a dog, or a kangaroo!
I chose this book because many of us take dog training classes and do what we are told by the instructor. We might not know why and accept the information blindly. It is important that we understand learning theory and understand the impact on those we are teaching whether our learner is a person or a dog.

---