Dragon's Bait
By Vivian Vande Velde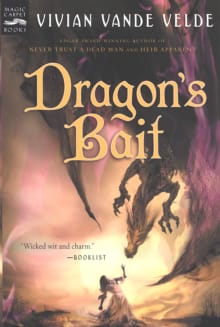 Why this book?
This is one of my all-time favorites. It tells the story of Alys, who's wrongly accused of being a witch, and is sentenced to death by dragon. However, it turns out that the dragon in question, Selendrile, is not a mindless, maiden-eating beast. He's an intelligent shapeshifter, and he's fond of revenge. He assumes human form and vows to help Alys get back at the people who wronged her.
My favorite thing about this book was that both Alys and Selendrile are morally gray. Selendrile makes Alys worse by leading her on a path of vengeance; Alys makes Selendrile better by accepting his nature; eventually, they meet in the middle as partners-in-crime. If you like your dragons to be charismatic, layered, and ever-so-slightly feral, check out Dragon's Bait!

---
When you buy a book we may earn a small commission.