The Magic School Bus in the Time of the Dinosaurs
By Joanna Cole, Bruce Degen (illustrator),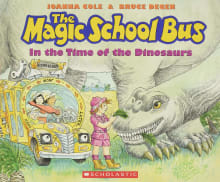 Why this book?
The Magic School Bus series is the perfect blend of entertaining and educational. I love how Cole delves into dinosaurs & prehistoric creatures in this book. The characters all work together so well. And who doesn't love spontaneous Ms. Frizzle?! This whole series contains classic reads for children and I highly recommend it.
---