A Little Hatred
By Joe Abercrombie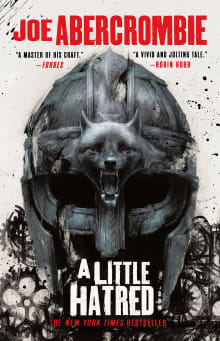 Why this book?
Joe Abercrombie is the king of writing casual comic conversations in dire situations. His seventh book in this world, A Little Hatred is the first in a new trilogy, the freshest from a seven-year gap in the series, and one of the best for the sheer quality of standout characters. Savine dan Glokta is my favourite – "What an honour to see you, my lady." "Isn't it though!" – followed closely by Teufel, the brass-knuckled spy; Gunnar Broad, the man or bull (if he wears his spectacles); and Bremer dan Gorst, the deadliest man in the union who can only speak in a high-pitched squeak.
Not only is this a book you can read without prior knowledge of the previous six, this book will also convince you to go back and read all those other books, then re-read this again for it to take on an entirely different light, become an entirely different book, and one you'll love in a thousand different ways.
---
When you buy a book we may earn a small commission.