Dad, Jackie, and Me
By Myron Uhlberg, Colin Bootman (illustrator),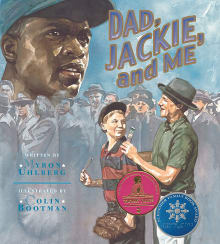 Why this book?
As a deaf man, I've run into people who refuse to talk to me because of their prejudices toward deaf people. This includes my own brother, friends, and cousins.
Prejudice in American society is ubiquitous. No one knew this better than Myron Uhlberg's father, a deaf man. When Branch Rickie decided to break the color barrier in baseball by hiring Jackie Robinson as the starting first baseman for the Brooklyn Dodgers, Mr. Uhlberg understood immediately the difficulties the ballplayer would encounter from racist athletes and fans. Though Uhlberg knew nothing about baseball, he became one of Robinson's adoring fans at Ebbets Field in Brooklyn, New York during the 1947 baseball season.
Myron and his father visited Ebbets Field frequently during Robinson's rookie year. Author Myron Uhlberg and illustrator Colin Bootman produce an emotionally packed picture book kids can understand and learn about diversity in their award-winning picture book, Dad, Jackie, and Me.
---