The Green Rust
By Edgar Wallace,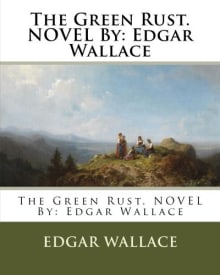 Why this book?
One of the most prolific thriller writers of the early 20th century, Edgar Wallace wasn't alone in writing speculative fiction employing new technology that reflected concerns over the First World War. He wasn't alone in fearing biological weapons as in the Green Rust in which Germany planned to use to release germs that would wipe out much of earth's wheat, giving Germany domination after their surrender at the end of the Great War.

The biological weapon in the Green Rust wasn't Wallace's first use of a concept that would be employed countless times ever since; his 1913 The Fourth Plague had an Italian gang called the Red Hand blackmailing England with their own biological threat much in the spirit of what Blofeld and his Spectre would try out in the thrillers of Ian Fleming.
Later, Wallace's Little Green Man and Other Stories also anticipated the technology of the future, including a computer-controlled hidden camera and infrared photography.
---