The Spy Who Came in from the Cold
By John Le Carré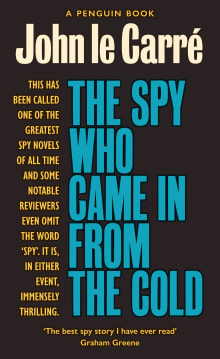 Why this book?
Le Carré's name has become synonymous with the spy genre, and it was this book that propelled him to international stardom. The Spy Who Came in from the Cold is the third of Le Carré's spy novels and takes place against the backdrop of the Cold War, not long after the raising of the Berlin Wall.
Alec Leamas, an MI6 field operative in Berlin, is called back to London, apparently in disgrace, but actually to complete one final mission. Control (Head of MI6) asks him to go undercover one last time to convince the East Germans that he is a defector in order to set in place a plan aimed at bringing down one of the leaders of their secret security service.
Graham Green (himself, like myself, a sometime writer of spy fiction) considered The Spy Who Came in from the Cold to be the greatest spy novel ever written. Praise indeed!
This was the first Le Carré novel I ever read, and in my opinion, he's never written anything better, and that's really saying something. The quality of the writing is up there with that of any writer you care to name. This is the very antithesis of James Bond and has authenticity stamped on every page. The main character, Alec Leamas is just as well drawn as George Smiley, a bitter, disappointed failure of a man who is an unknowing pawn in the game between East and West. The writing is bleak and gritty, exactly like the events and time the book portrays.
---
When you buy a book we may earn a small commission.