In the Prison City: Brussels, 1914-1918: A Personal Narrative
By J. H. Twells, Jr.,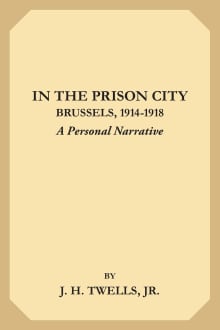 Why this book?
Whenever I research for a novel, I love discovering those little-known nuggets of history. This 1918 action memoir is chocked full of them, revealing life in enemy-occupied Brussels during WWI. I was immediately drawn into this world and imagined the Belgian people's shock and fear at the rumbling wheels of mitrailleuse guns and thundering horse's hooves that announced the German army rolling into town. I sympathized with their hardships in being prisoners in their own city and I cheered them as they began to retaliate against their oppressors in subtle and sometimes humorous ways. Their fighting spirit became my inspiration for the story setting of my book.  
---