Pig-Boy: A Trickster Tale from Hawai'i
By Gerald McDermott,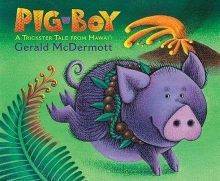 Why this book?
This is one of my favorite picture books. To me, the main character is life itself. A mischievous, greedy, daring, vulnerable, colorful aliveness. The strong colors and the bold shapes of the illustrations demonstrate the raw intensity of life. And the theme of Grandmother loving Pig-Boy unconditionally is one mothers would resonate with. Such a treat!

---