Walter Langley: Pioneer of the Newlyn Art Colony
By Roger Langley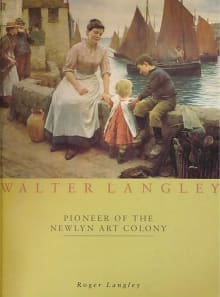 Why this book?
Walter Langley was a 19th C English artist who specialized in watercolor paintings. His journey began in the Industrial city of Birmingham UK where he developed great skill and mastery of watercolor. His career took off when he moved to the Cornwall fishing village of Newlyn. There he found the subjects and characters that would feature in his work and with which he would make his name. He was elected to the prestigious RI in London. 
This book is a biographical in-depth study of his life and work featuring numerous full-color plates. The incredible skill sets in the paintings he made show that watercolor as a medium, used with passion and care, deserves total respect. In the hands of a true master any subject can be rendered in a convincing and moving manner.
---
When you buy a book we may earn a small commission.