Villains of All Nations: Atlantic Pirates in the Golden Age
By Marcus Rediker,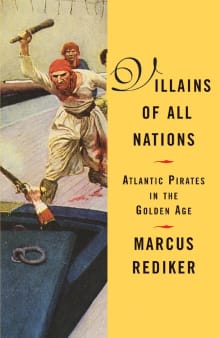 Why this book?
One of the most stimulating and polemical books ever written on pirates,
Villains
shows their social energy. In his account of pirates in the early eighteenth century, Rediker reveals the importance of history from below, which is often marginalized by traditional historical writing to focus on the experiences of the higher social orders. In fact, a 'rhetoric of demonization' about 'peoples' history' often runs through writings by the elite classes.
Villains addresses key questions about piracy: who pirates were and where they came from? Why did people become pirates and what were their beliefs? How were pirates organized? How did pirates behave to other people and how they were described by others, and, finally, how were they suppressed? Arguably Villains is the most influential book on pirates ever written, transforming them into a serious academic subject. It is a must-read.
---