Language of Amarna - Language of Diplomacy: Perspectives on the Amarna Letters
By J. Jana Mynarova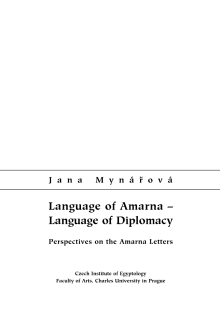 Why this book?
Better known as Amarna Heresy, a philosophical discussion from Ancient Egypt's Babylon about Monotheism and Trinity written 3,000 years ago. "To the King, My Sun, My God, the Breath of My Life…" This remarkable collection contains requests for gold, offers of marriage, warning of a traitor, and promises of loyalty to the pharaoh – letters of correspondence, all written in Akkadian. The Amorite tribes from Babylonia, form part of this correspondence.
Akhenaten 1378 - 1361 BC, was the first Egyptian ruler in history, who has specifically written about Egyptian Gods, a practice usually kept behind the closed doors of the temples. The deity called Aten inspired such devotion in Pharaoh Akhenaten that he built a new capital city which he named 'Horizon of the Aten' (modern Amarna), dedicated to the AΘen. He spoke of a deity with no image, an omnipotent God/goddess that emanates aNX, holy spirits, served by all the other Ancient Egyptian Gods, as the ancient saints or angels, who all had their own role in the kingdom of God.

---
When you buy a book we may earn a small commission.