The Landmark Herodotus: The Histories
By Robert B. Strassler (editor),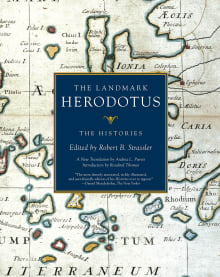 Why this book?
For anyone wanting to find out not just what happened in the Graeco-Persian Wars (490–479 BC) but how their participants viewed the world, Herodotus' Histories are a treasure trove. Writing a generation after the event, Herodotus travelled widely, interviewing as many people as he could from veterans to Egyptian priests. But readers must be wary: Herodotus wasn't writing history as we understand it. Instead, he blended fact, anecdote, and moralizing to demonstrate why in his view the Greek way of life (especially Athenian democracy) was superior to Persian totalitarianism, and why Persian hubris merited divine punishment. While the Landmark edition's translation of Herodotus' seductive prose may not be the best (Tom Holland's, for example, is better), the number and clarity of its maps make it invaluable.

---