The Iliad
By Homer, Robert Fagles (translator),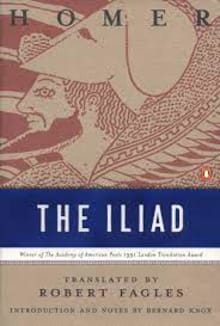 Why this book?
I am cheating a little here because 'Homer' can refer to either the Iliad or the Odyssey or both. Either way, those are the two foundational works of ALL western literature and of much 'world' literature besides. They are both very very long verse epics, originally composed and handed down orally by a combination of memory and performance improvisation, but eventually committed to writing in the Greeks' then-new alphabetic script. 
If there was just one poet called Homer, his genius lay in his selection of a single unifying theme for both monumental poems – the anger of Greek hero-warrior Achilles (Iliad), and the ten-year travels and travails of petty Greek island king Odysseus (Odyssey). But most of us think that two different 'monumental composers' did the business. 
Both epics spoke to and helped form the ancient Greeks' sense of identity as a people, the Iliad in the context mainly of battle, the Odyssey in terms chiefly of – often violent - encounters between Greeks and a variety of non-Greeks (including monsters and cannibals). The Iliad is more of a 'boy's toys' sort of epic, lots of fighting, blood, and guts, vividly, almost lovingly, described in intimate detail. One oddity is that despite the poem's title (Ilion was another name for Troy) the work does not culminate in the capture and sack of Troy and recovery by King Menelaus of Sparta of his errant adulterous wife Helen. (To see how it does end, you'll just have to read it.) The Odyssey, by contrast, is a 'boy's own' adventure story, full of storms and shipwrecks and magic, embracing two passionate love stories (one between Odysseus and his long suffering wife Penelope, the other between Odysseus and the gorgeous immortal Calypso), and rounded off with a seriously nasty revenge drama followed by a charming marital reunion. 
There have been many many English translations – or versions – done over the years or indeed centuries: from Chapman and Pope to yesterday, mostly by men but more recently by women. For adult readers, I am going to recommend the two verse translations by American Robert Fagles, not least because they come with excellent introductions by Bernard Knox. For younger readers, I strongly recommend the stripped-down, 'told-to-the-children' versions by Jeanie Laing, illustrated brilliantly by W. Heath Robinson. It was those that set me off on my own Classical odyssey.
---