The Iliad
By Homer, Robert Fagles (translator),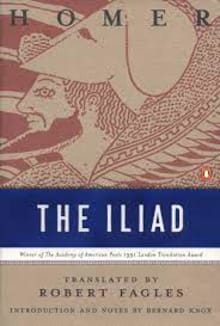 Book description
One of the greatest epics in Western literature, THE ILIAD recounts the story of the Trojan wars. This timeless poem still vividly conveys the horror and heroism of men and gods battling amidst devastation and destruction, as it moves to its tragic conclusion. In his introduction, Bernard Knox observes that…
Why read it?
3 authors picked The Iliad as one of their favorite books. Why do they recommend it?
Luciana Cavallaro
Mythology plays a large part in my stories and one book, The Iliad by Homer inspired me to write my trilogy.
From the opening line "Sing, O goddess, the anger [mênis] of Achilles son of Peleus, that brought countless ills upon the Achaeans", I knew straightaway the story was special. The Iliad transported me to a time where gods, demi-gods mingled with humans, weaving magic, corruption, destruction, and ruination.
Each character, such as Achilles, Menelaus, Agamemnon, Hector, Paris, Helen, Priam including lesser-known ones, created the myth of the Trojan War. Did such a war happen? From archaeological discoveries, it does…
Kevin McColley
The earliest and perhaps the greatest book about the psychology of war ever written. Perhaps nowhere in all of fiction is there a better description of a character who suffers trauma from violence, both in inflicting it and in receiving it, than Achilles. If you read no other, then read this.
Paul Cartledge
I am cheating a little here because 'Homer' can refer to either the Iliad or the Odyssey or both. Either way, those are the two foundational works of ALL western literature and of much 'world' literature besides. They are both very very long verse epics, originally composed and handed down orally by a combination of memory and performance improvisation, but eventually committed to writing in the Greeks' then-new alphabetic script. 
If there was just one poet called Homer, his genius lay in his selection of a single unifying theme for both monumental poems – the anger of Greek hero-warrior Achilles…
Our community of 9,000+ authors has personally recommended 100 books like The Iliad.
5 book lists we think you will like!
Interested in the Trojan War, the Iliad, and Ancient Greece?
9,000+ authors have recommended their favorite books and what they love about them. Browse their picks for the best books about the Trojan War, the Iliad, and Ancient Greece.