The Spartans
By Paul Cartledge,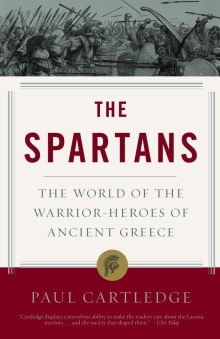 Book description
The Spartan legend has inspired and captivated subsequent generations with evidence of its legacy found in both the Roman and British Empires. The Spartans are our ancestors, every bit as much as the Athenians. But while Athens promoted democracy, individualism, culture and society, their great rivals Sparta embodied militarism, totalitarianism,…
Why read it?
2 authors picked The Spartans as one of their favorite books. Why do they recommend it?
Tony Perrottet
Of the over 1,000 independent city-states that made up the Hellenic world -- and competed in the Olympic Games -- Sparta is today the most notorious and influential (after Athens). This book provides a wonderful insight into its extraordinary culture, where Spartan males were brought up in a strict, even ruthless regime of military training, discipline, and self-sacrifice for the communal good -- but where women were given unexpected freedom and power.
David Stuttard
There was really no such thing as Classical Greece. Instead, 1,000 city-states founded by Greeks around the Mediterranean and the Black Sea experimented with constitutions ranging from democracy to tyranny. None was as idiosyncratic as Sparta. Even contemporary Athenians, who viewed it as their mirror image, found it hard to penetrate the 'mirage' of this secretive, militaristic yet fascinating society. Cartledge, a world expert as well as a persuasive writer, untangles romance from reality to give the general reader a real flavour of life in this eccentric state and unpick the reasons for its power and ultimate demise – and…