The Landmark Thucydides
By Robert B. Strassler (editor),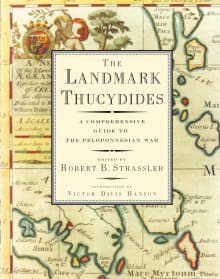 Book description
Thucydides called his account of two decades of war between Athens and Sparta "a possession for all time," and indeed it is the first and still the most famous work in the Western historical tradition.

Considered essential reading for generals, statesmen, and liberally educated citizens for more than 2,000 years,…
Shepherd is reader supported. We may earn an affiliate commission when you buy through links on our website. (learn more)
Why read it?
3 authors picked The Landmark Thucydides as one of their favorite books. Why do they recommend it?
Richard Jenkyns
Thucydides, along with Herodotus a generation earlier, created history as we know it. Herodotus added to narrative the analysis of cause: 'why' as well as 'what'. Thucydides added different levels of causation: the immediate reasons for the war and the long-term causes. He studied how the dynamics of fear and power drive states into warfare. He took the gods out of history (it is hard to remember how radical that was). He studied the corruption of moral language and behaviour under the pressure of conflict. In Pericles' Funeral Speech he set out the theory of Athenian democracy (Pericles would have…
Andrew R. Novo
Thucydides' History of the Peloponnesian War probably needs no introduction. It is our only primary source for the shattering conflict between Athens and Sparta, which ended the "Golden" period of Athens famous for its art, its plays, and of course, its revolutionary system of direct democracy. Beyond its value as a work of history, Thucydides provides timeless insights into the nature of humanity, conflict, and society. He remains one of the most profound writers about human nature, politics, and strategy. When I teach Thucydides, I often joke with students that whatever you are looking for, "you can find it in…
David Stuttard
Declaring it a 'possession for eternity', Thucydides presented his History as a rival to Herodotus'. His account of the Peloponnesian War (431–404 BC) between Athens and Sparta, eschews the fantastical and divine. Part of what makes it compelling is the fact that Thucydides himself fought as a general, so he knew whereof he wrote. With brilliant digressions on topics such as the evolution of language as propaganda or set pieces describing debates and battles, for generations his apparently balanced exposition was seen as commendably objective. More recent studies have uncovered a definite agenda, revealed (for example) in his use…