The Friends of Eddie Coyle
By George V. Higgins,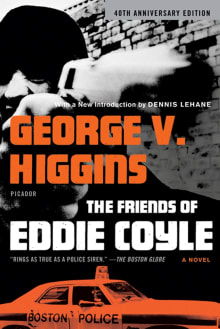 Why this book?
An aging, low-level figure in Boston's Irish mob, Eddie Coyle is awaiting sentencing after being convicted of hijacking a truck. While he considers his options, his many friends and acquaintances consider what to do about him.
This novel is about seventy-percent dialogue, and it's all legitimately excellent and absolutely authentic. True to life, the way many people speak is annoying and imprecise – they meander, they tell stories that have nothing to do with what's going on, they forget what they were saying – but it ads a sense of realism that is extremely rare in novels.
It's a very good novel and the most realistic one I've ever read, but it's not an easy novel to read as it's sometimes frustrating – just like real people are. It is, however, a very rewarding novel if you like crime fiction and particularly the interactions between people in that strange netherworld of friendship/brotherhood/coworkerhood that entails being in the mob.
---