Women of the Mito Domain: Recollections of Samurai Family Life
By Kikue Yamakawa, Kate Wildman Nakai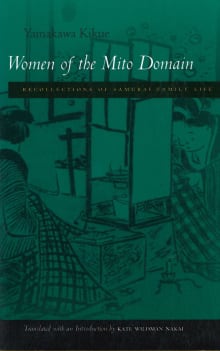 Why this book?
Want to know how samurai women managed their high status but meager incomes? This engaging memoir takes us inside the nitty-gritty of their everyday life that was frugal by necessity. We learn how samurai women dressed, the importance they placed on meticulous grooming, and how they dealt with in-laws, concubines, and a runaway daughter. It shows how in principle samurai women were expected to practice the martial arts with the naginata (a long, thin halberd), but in fact, they were too busy with household chores to receive more than token training.
For the history buff, the memoir also paints a vivid picture of the civil war that erupted in the Mito domain in 1864 and its devastating consequences for the women whose families ended up on the losing side. 
---
When you buy a book we may earn a small commission.