Musui's Story: The Autobiography of a Tokugawa Samurai
By Katsu Kokichi, Teruko Craig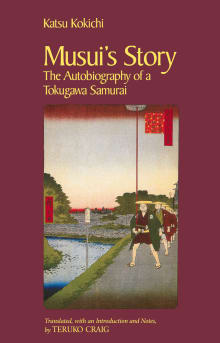 Why this book?
The samurai were central to the story of the two-and-a-half century-long Tokugawa peace. During this time, they were transformed by it from warriors to sword-wearing bureaucrats. This wonderful autobiography from a 19th-century low-ranking samurai of the central (Tokugawa) government belies the myth of the noble samurai who followed a code of chivalry similar to that of European knights.
A ne'er-do-well, Katsu Kokichi drinks too much, gets into fights, gets arrested, engages in trade as a sword seller (which samurai weren't supposed to do). He acts so poorly his own father confines him in a bamboo cage so he will straighten up. It's such a lively read, sucking the reader into the daily life not just of samurai but of the commoners around them too.

---
When you buy a book we may earn a small commission.