The Important Thing about Margaret Wise Brown
By Mac Barnett, Sarah Jacoby (illustrator),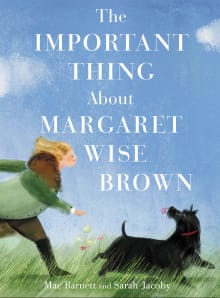 Why this book?
I love this subversive, touching, and weird picture book biography about the author of Goodnight, Moon (and more than 100 other books). In 42 pages, Mac has managed to question the whole concept of biography and traditional notions about what children's books (and all books) should be like—both sentiments reflected in Margaret life and work—while at the same time providing a perfect portrait of the aspects of the author's life most relevant to her writing, and probing questions of censorship and tastemaking. Among other things, Mac shows young creators how to live in a celebratory manner even if the world seems to have turned its back on their work. He does all this while keeping the reader curious (there's tension!), engaged (there's storytelling!), and happy (it's funny!)—but not too happy (the ending is tragic and philosophical!). This might be my favorite picture book biography of all time.
---