Exquisite: The Poetry and Life of Gwendolyn Brooks
By Suzanne Slade, Cozbi A. Cabrera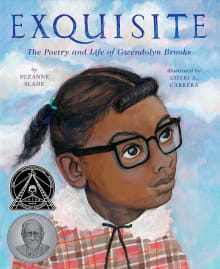 Why this book?
Like many authors, my most-asked question is "Where do you get your ideas?" Gwendolyn Brooks had the perfect answer: "Poetry comes out of life." Brooks, the first Black person to win a Pulitzer Prize, grew up with parents who prized poetry. She began writing at age 7, published at 11, and kept writing about life—its tough times and its beauty—as she worked to make her words shine. That theme, that poetry can sustain and inspire, even through hardships, runs throughout this biography.
As Slade tells it, one day in 1950, Brooks, struggling to pay her bills--her electricity had been turned off--receives a call announcing that she had won poetry's greatest honor. This bio will leave children amazed that it's true and inspired to learn more.

---
When you buy a book we may earn a small commission.