The Surrender Experiment: My Journey Into Life's Perfection
By Michael A. Singer,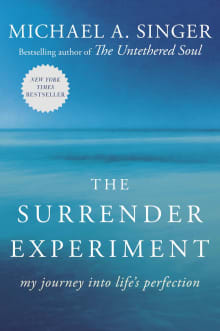 Why this book?
What I love about Michael A. Singer's The Surrender Experiment is that it really shows us just how much life is serving up for us, every single day. In fact - that's how I discovered it in the first place! A friend recommended one of Michael's other books to me (The Untethered Soul) but I mistakenly read this instead. 
Michael is a professor turned spiritual teacher and author. The Surrender Experiment is all about his journey, having made the commitment to simply trust in the flow of life. He chronicles how he created the framework within his life to live this way, what unfolded for him as a result, and the beauty of it all. 
The reason why I recommend this book as being complementary to Stepping Beyond Intention and for anyone looking for guidance in personal development is that it opens your eyes up to just how much is out there for you. It's about showing you how to get out of the way of what life is trying to give you. 
It's very easy to get caught up in trying to dictate how something should show up for you. The Surrender Experiment reminds us that we need to be open to all of the ways something can happen for us.

---