American Gothic Tales (William Abrahams)
By Joyce Carol Oates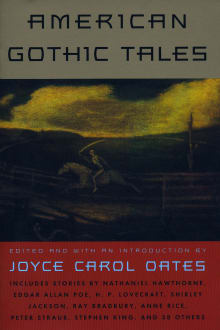 Why this book?
As the best introduction to the American Gothic chosen by one of the most prolific modern masters of the genre, this anthology spans two centuries. It offers insightful context and an engaging historical road map to the current site of the genre, the weird and wounded world of the suburbs.

Joyce Carol Oates, who has written some of the most chilling contemporary examples of American Gothic fiction, dissects the shadowy heritage of our national preoccupation with the macabre themes that haunt the American Dream. From Poe, Hawthorne, and Melville through James and Wharton to Anne Rice, Raymond Carver, Stephen King, and several lesser-known writers, Oates provides readers with a provocative selection that probes beneath superficial normality to reach the dangerous psychological abnormalities of our national identity.
---
When you buy a book we may earn a small commission.