The Virgin Suicides
By Jeffrey Eugenides,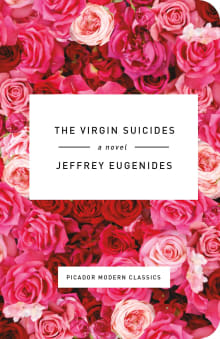 Book description
Introducing the Collins Modern Classics, a series featuring some of the most significant books of recent times, books that shed light on the human experience - classics which will endure for generations to come.
That girl didn't want to die. She just wanted out of that house. She wanted out…
Shepherd is reader supported. We may earn an affiliate commission when you buy through links on our website. (learn more)
Why read it?
3 authors picked The Virgin Suicides as one of their favorite books. Why do they recommend it?
Martin Lastrapes
Before Jeffrey Eugenides won the Pulitzer Prize for his sophomore effort, he debuted on the literary scene with one of my very favorite books, The Virgin Suicides, a dark and haunting novel about a group of five repressed teenage sisters who each commit suicide over the course of a year. In Eugenides' subversive coming-of-age tale, he explores themes of religion, isolation, and mental illness through the collective narrative voice of the neighborhood boys who obsessed over the sisters and want to understand why they killed themselves.
Carolyn Parkhurst
This book has been on my list of all-time favorites since it was first published in 1993. The premise can be a tough sell; it's the story of a family with five daughters, all of whom commit suicide over the course of a year. But the book's greatest strength lies in the way the story is told: narrated by the collective voice of the neighborhood boys, who admired and wondered about the Lisbon girls from afar, the novel has one of the most unusual and compelling narrative voices of any book I know.
Paula Uruburu
Adapted from his 1990 short story, Jeffrey Eugenides' remarkable debut novel does the impossible. Relocating gothic tropes of the past in the Detroit suburbs of the 1970's, he tells the most intimate, inventive and terrible suburban gothic tale in contemporary fiction.
Employing the funhouse lens of multiple narrators -- neighborhood boys who are voyeuristically obsessed with the five Lisbon sisters -- Eugenides invokes a deceptively nostalgic past while looking ahead to current national traumas including religion, the media, family dysfunction, and environmental disaster. Imprisoned in an ordinary-looking suburban home that is dying like the neighborhood itself, the sisters are doomed…