Everything That Rises Must Converge
By Flannery O'Connor,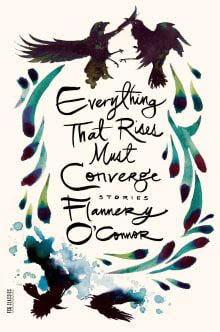 Book description
Flannery O'Connor was working on Everything That Rises Must Converge at the time of her death. This collection is an exquisite legacy from a genius of the American short story, in which she scrutinizes territory familiar to her readers: race, faith, and morality. The stories encompass the comic and the…
Why read it?
2 authors picked Everything That Rises Must Converge as one of their favorite books. Why do they recommend it?
Noel Anenberg
Flannery O'Connor's saturnine stories of the American South are jewels of American literature.
They are laced with humor and violence but are at the same time deeply spiritual. In fact, the Catholic Church banned her work until it was discovered that her stories were written to show Grace in the lives of her parochial characters.
In Everything That Rises Must Converge, a story from A Good Man is Hard to Find and Other Stories published in 1955, O'Connor writes about Julian, a young college-educated writer who lives with his mother in a decadent neighborhood that lost its prominence as the…
Paula Uruburu
Although trespassing on Faulknerian Southern gothic territory, this posthumous collection of nine demonically disquieting stories by Flannery O'Connor pits inhabitants of the New South circa 1960 against old school elemental forces of mystery and revelation.

Set in and around the suburbs of what she called the modern "Christ-haunted" south -- whether on a newly desegregated bus trip to the YWCA, in a doctor's waiting room, or in a social worker's ordinary suburban home, grotesque eruptions of violence are the means to startling and sometimes deadly ends. Hypocritical manners that mask ugly generational racism, false liberalism that leads to an unthinkable…