U-505: The Lone Wolf of Chicago's Museum of Science and Industry
By James E. Wise, Jr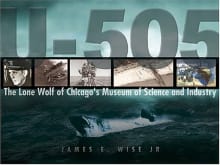 Why this book?
The day I was born, the German U-boat U-505 lurked off the west coast of Africa, awaiting American and Allied ships. The submarine was part of the Nazi's fleet of "wolfpacks," terrorizing the Atlantic, and even the East and Gulf Coasts of the United States. The book tells about the capture of the submarine after it had carried out a dozen patrols, sinking eight ships. It was secretly towed to Bermuda where the crew interned at a U.S. POW camp. Codebooks, an Enigma machine, and other materials found on board bolstered Allied codebreakers.
The U-505 was eventually donated to the Chicago Museum of Science and Industry, one of only four German WWII U-boats to survive as museum ships. The submarine was towed 3,000 miles from Portsmouth, NH, through the St. Lawrence River, and across four of the Great Lakes to Chicago. The logistics of getting the huge boat across traffic lanes is a fascinating part of this book. Today you may tour the U-505 at the Chicago Museum of Science and Industry.
---
When you buy a book we may earn a small commission.