Stolen Time: One Woman's Inspiring Story as an Innocent Condemned to Death
By Sunny Jacobs,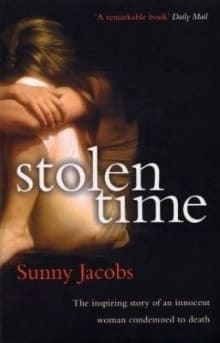 Why this book?
This is my all-time favourite book. I heard the author tell her story and her resilience over a zoom conference and I immediately knew that my life would never be the same. I didn't know how but I knew I would be different.
Stolen Time is about a woman wrongly convicted for murder who spent 17 years incarcerated, five of those years were spent in solitary confinement on death row. Her partner was also sentenced and in fact executed two years before Sunny was exonerated. It's the beautiful way Sunny speaks that made this my all-time favourite read. It's a love story with real tragedy but told in the most resilient and forgiving way. I found it totally inspiring. Sunny taught me that no matter what the circumstances we have a duty to love and forgive no matter what if we want to live free. No one can steal our spirit. I never realised it was a choice, I could remain imprisoned in my own mind or be free like Sunny was. I myself had always felt trapped. Trapped by the rules of society and trapped by domestic abuse. Sunny's example let me see that I have the power over restriction and empowerment not my environment.
The other greatest gift I received from this beautiful soul was to give everything a time. To honour my feelings but after a time let them go. I started setting a timer and allowed my feelings to surface but after 15 minutes they had to go. Whether that was resentment, sadness, or frustration they all had the same time. So simple and yet incredibly effective. Another tool in my spiritual toolbox for dealing with life. Priceless.
---