Rational Choice in an Uncertain World: The Psychology of Judgment and Decision Making
By Reid Hastie, Robyn M. Dawes,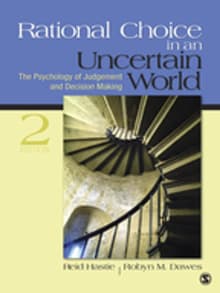 Why this book?
This is technically a textbook, and isn't marketed as a book you bring to the beach. But sometimes it's more satisfying to have the big ideas on a topic patiently explained to you in an orderly fashion than to try to pick them up from stories and arguments. This paperback, coauthored by one of my graduate school teachers (Hastie), explains the famous discoveries by Amos Tversky and Daniel Kahneman on biases in human reasoning, which Kahneman presented in his bestseller Thinking, Fast and Slow (too obvious for me to include on my list). It also explains lesser-known but still fascinating discoveries, and has helpful appendices for those of us who forget some of the basics of probability theory.
---