The Importance of Being Little: What Young Children Really Need from Grownups
By Erika Christakis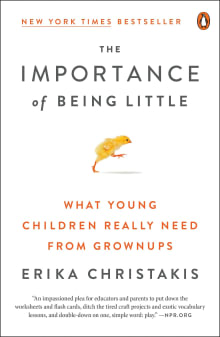 Why this book?
Erika Christakis offers a scientifically-grounded view of early childhood in a very approachable format for parents, teachers, childcare workers, and anyone who cares about young children. Christakis suggests we can make a few easy changes to nurture early learning and development and empower children through our relationships with the child.
The importance of playing and social interaction are critical aspects of child development and social emotional learning, but often children are expected to conform to adult-centered goals such as unrealistic expectations, adult schedules, and activities based on adult preferences for the child that might not align with their strengths and interests.
I think back and remember how creative and curious I was as a child, and as a parent I am reminded of the power of a child's mind to imagine and create. Children often also have wisdom beyond their years. As adults we need to not only see our children but truly listen to them. We can learn from them and they can also help us reconnect with our own playfulness and creativity.
---
When you buy a book we may earn a small commission.