Raising an Emotionally Intelligent Child
By John Gottman, Joan Declaire,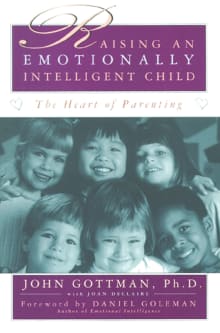 Book description
Raising an Emotionally Intelligent Child is John Gottman's groundbreaking guide to teaching children to understand and regulate their emotional world.

Intelligence That Comes from the Heart

Every parent knows the importance of equipping children with the intellectual skills they need to succeed in school and life. But children also need…
Why read it?
3 authors picked Raising an Emotionally Intelligent Child as one of their favorite books. Why do they recommend it?
Justin Coulson
Gottman is widely considered the ultimate relationships guru, worldwide. When he turned his attention to parenting to write this book, he provided parents with a blueprint for understanding and dealing with children's emotions that is unsurpassed. I have used this book as a reference for nearly 20 years and still find gems that inspire better interactions between my kids and I. One of the best parenting books on the planet.
Beth Macgregor
Dr. John Gottman is an internationally acclaimed research psychologist whose Emotion Coaching technique has transformed the lives of countless parents and children across the world. This book helps parents understand the big feelings which are often at the root of children's tantrums and upsets and offers a tried and true, research-based, practical way to respond. Dr. Gottman's techniques not only help parents respond more confidently and effectively to their children - reducing the length and frequency of tantrums and upsets – but also increase their children's self-confidence, mental health, and relationship skills. What could be better?!

Stephanie Bosco-Ruggiero
This is an older book, based on many of Coleman's principles from Emotional Intelligence, but it's worthwhile. Raising emotionally intelligent children who can empathize with the struggles of others, want to help others and their peers, and can put things into perspective (in an age-appropriate way) is absolutely critical today. As we see basic kindness and decency fall by the wayside in so many places in society, we have to be extra vigilant to not let the next generation fall into the same self-centered, uncaring patterns that so many adults unfortunately exhibit. This book provides insights into how to nurture…