A Great Deliverance
By Elizabeth George,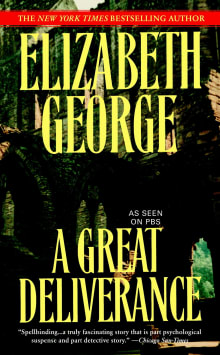 Why this book?
This is the first book in George's twenty-one book series featuring Scotland Yard Inspector Thomas Lynley, the eighth earl of Asherton, and Detective Sergeant Barbara Havers, a commoner.
When I read A Great Deliverance, I fell in love with George's beautiful writing, found her two characters fascinating, and adored the cast of characters supporting the detectives. Plus, the book is unusual because the reader knows from the start who the killer is and the investigation focuses on why she killed him.
When I sat down to write my first ever fiction, Linley and Havers were the inspiration for my two detectives, NYPD Detectives Chiara Corelli and P.J. Parker. And I learned from George that the characters are as important, if not more important, than the plot. She inspired my writing.
---