The One and Only Ivan
By Katherine Applegate, Patricia Castelao (illustrator),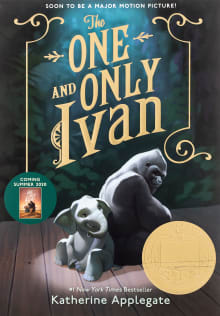 Why this book?
Not one but two elephants star in this novel voiced in poetic vignettes by Ivan the gorilla. The animals are held in neighboring "domains" in a grotesque suburban mall setting. Ivan's heart and mind drive the story, but compassion is made real by Stella, the older elephant. Her relationship with Ivan sheds light on their desperate circumstances. Ruby, the baby elephant, serves as a little beacon of hope, drawing the best from Ivan. Inspired by a true story, this book raised so many questions in my mind—about animal captivity, home, friendship, family, and community.
---