When Stars Are Scattered
By Omar Mohamed, Victoria Jamieson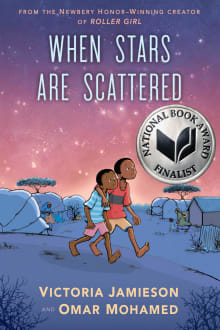 Why this book?
This is the remarkable story of two young Somalian boys who spent their whole childhood in a huge refugee camp in Kenya, living with hunger, poor conditions, lack of basic necessities, and very little hope for a better future. In spite of such dire conditions, in spite of moments of discouragement and sometimes despair, this book is full of hope and endurance and love: the love the boys feel for each other, the love and respect they show to their foster mother, and their friends and fellow refugees. 
The afterword, telling us what became of Omar and Hassan, is incredibly moving and humbling. 
Victoria Jamieson's drawings show beautifully what life in this camp was like.
---
When you buy a book we may earn a small commission.