The Sympathizer: A Novel
By Viet Thanh Nguyen,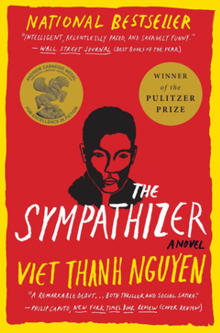 Why this book?
A bisection of the self is at the core of immigrant identity. Anyone whose life and sense of self have been split between two cultures will immediately identify with the protagonist of this gripping novel, a person who is fundamentally divided in his own soul. "I am a spy, a sleeper, a spook, a man of two faces," announces our main character in the opening lines. "I am not some misunderstood mutant from a comic book or a horror movie, although some have treated me as such. I am simply able to see any issue from both sides." The protagonist muses that this dual perspective is perhaps his only talent—and then wonders whether it's a talent at all. "After all, a talent is something you use, not something that uses you."
Nguyen structures his entire novel around this sense of duality, a psychological union of unlikely oppositions: The protagonist's parents are a Vietnamese woman and a French priest. He grows up in Vietnam but goes to college in the United States. As an adult, he becomes a North Vietnamese mole embedded in the South Vietnamese army, but he can't help but feel attached to the military personnel upon whom he is spying. During the fall of Saigon, he leaves Vietnam and moves to Los Angeles; he is eventually hired as a consultant to a Hollywood film director and is charged with providing a Vietnamese perspective during the filming of a movie about the Vietnam War. Even the novel's climax hinges on double perspectives and the protagonist's ability to shift perspectives and meanings. 
This is a compelling story that will captivate anyone, but what really stayed with me was the way in which the plot serves as a metaphor for the struggle experienced by anyone who is trying to make a new life while carrying within them an old one, and how the character of the spy—a person of divided loyalties and therefore not to be trusted—is an embodiment of any newcomer who must cope with competing loves and the distrust of those who do not understand the true nature of a divided self. 
---