Harold and the Purple Crayon
By Crockett Johnson,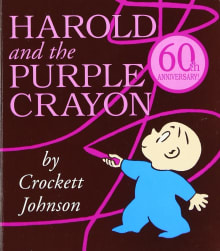 Why this book?
A child and his crayon bring a world to life. I can't think of a better example of the power of the imagination. I was a slow reader throughout elementary school. I preferred books with lots of pictures instead of a lot of words. So, it's no surprise that I fell in love with Harold and his purple crayon. This book inspired me to create drawings of my own… and eventually just as Johnson does in this classic picture book, I began to combine my drawings with words. I began telling stories. 
---