Striking Thoughts: Bruce Lee's Wisdom for Daily Living
By Bruce Lee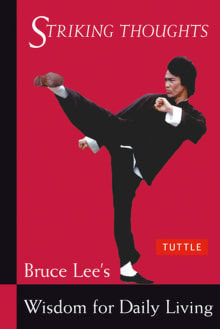 Why this book?
Bruce's work and words have had a lasting impact on me. He squeezed a lot of living and achievement into a relatively short life. I come back to this book again and again. My copy has been read and re-read.  Many pages and passages are highlighted. It's also one of those rarest of books that seems to teach you something new each time you pick it up.  
The book is broken down into various themes that deal with the human condition but there is a heavy focus on simplicity and seeking the straightest path. Bruce's genius was exploring and learning from many sources, formulating his own ideas, keeping what worked, and leaving the rest. Or to quote the man himself: "Absorb what is useful, reject what is useless and add what is uniquely your own"
Bruce seemed to live by this philosophy. What would happen if we tried to do the same? What could our lives look like? This book is gold. 
---
When you buy a book we may earn a small commission.