Strength Rules, How to Get Stronger Than Almost Anyone--And the Proven Plan to Make It Real
By Danny Kavadlo,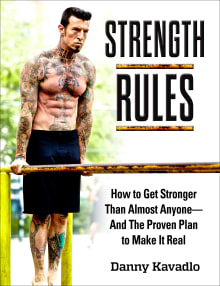 Recommended by Carl Phillips
From Carl's list on help you live a simpler life.
I believe deeply in the power of movement practice with strength training leading the way in foundational needs. Being a simplicity seeker, I am particularly drawn to the stripped-back nature of training with your own body weight (calisthenics) as a weight. I find this practice endlessly challenging and rewarding. I have long been a fan of the work of Danny Kavadlo (and his brother Al) who are two of the world's leading authorities on calisthenics and were writing about its benefits years before it became as trendy as it is now. I've been fortunate enough to be coached by Danny several times whilst we holiday in New York and have written on my blog about some of our time and talks together.  
Danny is also a proponent of keeping things simple and likes to focus on what matters most. This book is something of a simplicity manifesto (to all things…
---